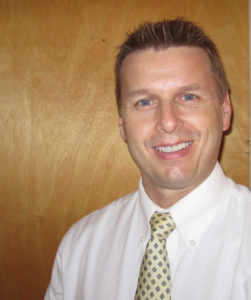 EDUCATION
West Virginia Institute of Technology,
Montgomery, WV
Bachelor of Science – 1984
PROFESSIONAL REGISTRATIONS
Professional Engineer, 200483, Maryland
PROFESSIONAL EXPERIENCE
Rick has over 28 years of experience in land planning and engineering.  He is responsible for planning, design and engineering for projects of various types including: municipal, county and state improvement projects for both public and private sector development.  He is experienced in the planning, design and construction monitoring of residential, commercial, industrial and institutional projects for both private and public clients. This experience includes design and analysis on many different types of land development and government improvement projects in various jurisdictions, each project requiring specific conformance to applicable laws and ordinances. His experience includes site planning, street and roadway design, stormwater management design and analysis, storm drainage system design, water distribution system and sewer design, sediment control design, construction monitoring for stormwater management facility as-built certifications, grading and earthwork studies, flood plain analyses, shop drawing review and site cost estimating.  Mr. Curry is responsible for coordinating work for engineers and designers and checking work for quality control.  Rick interacts with clients, review agencies and other professional disciplines for project coordination, construction plan approval and permit processing. Rick has designed numerous street and roadway projects, all requiring specific stormwater management, storm drain and utility design and analysis. Rick served as a member of the Steering Committee for the West Virginia Region 9 Planning and Development Council to develop a Model Stormwater Management Ordinance to meet the Chesapeake Bay TMDL limits set by the EPA. As a follow-up, Rick is participating in development of West Virginia's Phase II Watershed Implementation Plan (WIP) as part of the Developed Lands & Industrial Work Group through the Region 9 Planning & Development Council.
PROJECTS
Frederick Tourism Center, Frederick, MD;
Adaptive re-use of an historic factory building in the City of Frederick for the new Tourism Center.  The project included coordination with the City of Frederick and the State Highway Administration for the design of a bus drop-off on East Street along with site grading, sidewalks, utilities and stormwater management.
Monocacy Canning Company Site H (City of Frederick)
This Project involved the public/private development of the historic Cannery Building within the Carroll Creek Overlay District of the City of Frederick.  Planning and design for these projects involved conformance with the Carroll Creek Overlay District Standards. The project will be a gateway focal structure into the City from the newly constructed I-70 interchange onto East Street. B & R Design provided site planning, engineering and surveying services for this project which will start construction in the spring of 2012.
Academy Child Development Center,  Rockville, MD
Infill/Re-Development of existing site to incorporate needed parking facilities and improve site circulation and accessibility. Design included Demolition Plans, Site Planning, Stormwater Management Environmental Site Design (ESD), Sediment and Erosion Control and Landscaping design. Improvements were completed in 2011 and the facility is  fully functional.
Creekside Sites B & C ,City of Frederick, MD
The Creekside Projects involved the public/private development of properties along Carroll Creek within the Historic District of the City of Frederick.  Planning and design for these projects involved conformance with the Carroll Creek Overlay District Standards and the City Historic Preservation Commission. The projects involved streetscape planning and design including utility relocations, ADA sidewalks, roadway design, landscaping and hardscape design stormwater management and pedestrian circulation and access.
Linganore Urbana Youth Athletic Association (LUYAA), New Market, MD
Layout and design of athletic fields in the Town of New Market 100 Acre Woods Park. Coordination between the Town, the Association and the adjacent developer to create an athletic complex for Football, Baseball and soccer facilities.  The project included detailed grading, parking and ADA access design, stormwater management and sediment control.
Fletchers Grove, Town of Boonsboro, MD;
A mixed use project including 170 townhomes, 240 single family homes, commercial pad sites, fast food restaurant site, 96 condominiums and a Weis supermarket. This project included the design of approximately 5,000 LF of public Town street systems including Chase Six Boulevard, a major collector roadway connecting MD Rt. 68 and MD Rt. 67. The design included the relocation of a portion of MD Rt. 68 at its intersection with MD Rt. 40 and included a new traffic light and complete redesign of the existing intersection. Roadway improvements/upgrades to MD Rt. 40 included new turn lanes, sidewalks and roadway widening. The project also included the design of all utility systems and stormwater management facilities providing the latest water quality design technologies and flood control management practices.
Center Street Professional Center, Mt Airy, MD;
Re-development of an old clothing factory site in the Town including a mixed use commercial and medical office facility.  The facility also included an Oncology radiation therapy treatment center.  This site design was the first to include incorporating the Town's new "Downtown" zoning regulations and included all utilities, storm drainage and stormwater management associated with the construction.