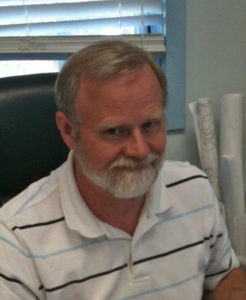 EDUCATION
Pikeville College, Pikeville, KY
Bachelor's Degree – 1976
PROFESSIONAL EXPERIENCE
Julius has over 31 years of engineering experience including 11 years of civil engineering experience in land planning, design and permitting. He is responsible for planning and designing projects of various types including: municipal, county and state improvement projects for both public and private sector development. He is experienced in the planning, design and construction monitoring of residential, commercial, industrial and institutional projects for both private and public clients. This experience includes design and analysis on many different types of land development and government improvement projects in various jurisdictions, each project requiring specific conformance to applicable laws and ordinances. His experience includes site planning, grading and earthwork studies, highway design, stormwater management design and analysis, water distribution system and sewer design, sediment control design, storm drainage design, lighting photometric studies, construction monitoring for stormwater management facilities for as-built certifications, flood plain analyses and site cost estimating. Julius has assisted in the design of several new schools along with renovations to existing schools along with new facility designs for colleges and universities, commercial and industrial sites and numerous residential developments. Julius is experienced all types of hydraulic and hydrologic analyses and stormwater management design including the new Maryland Environmental Site Design (ESD) methodologies.
PROJECTS
nstitutional Projects, Frederick, Montgomery, Carroll and Prince Georges County, MD;
Thurmont Primary School, Middletown Primary School, Centerville Elementary School, Mt. St. Mary's Student Center, Frederick Comm. College Daycare Facility, Brunswick Middle School Addition and Renovation, Academy Child Development Center.
These projects involved the design of the site layout, grading, stormwater management, storm drainage, water & sewer, landscaping and sediment control, in addition to offsite roadway improvements and safe access design.
Bowers Park, City of Frederick, MD;
Design of approximately 1,200 linear feet of new City street including all utilities, storm drainage and stormwater management. The design also included plans for improvements/upgrades to Bowers Road.
Fletchers Grove, Town of Boonsboro, MD;
A mixed use project including townhomes, single family homes, commercial pad sites, fast food restaurant site, condominiums and a Weis supermarket. This project included the design of approximately 5,000 LF of public roadway systems including Chase Six Boulevard, a major collector roadway connecting MD Rt. 68 and MD Rt. 67. The design included the relocation of a super-elevated portion of MD Rt. 68 at its intersection with MD Rt. 40 and included a new traffic light and complete redesign of the existing intersection. Roadway improvements/upgrades to MD Rt. 40 included new turn lanes and roadway widening. The project also included the design of all utility systems and stormwater management facilities providing the latest water quality design technologies and flood control management practices.
Center Street Professional Center, Mt Airy, MD;
Re-development of an old clothing factory site in the Town including a mixed use commercial and medical office facility.  The facility also included an Oncology radiation therapy treatment center.  Site design included incorporating the Town's new "Downtown" zoning regulations and included all utilities, storm drainage and stormwater management associated with the construction.
Richfield Station, Town of Chesapeake Beach, MD;
Planning and design of Town roadway systems including utility services (water & sewer), storm drainage, stormwater management facilities and sediment control design. This project includes 14 stormwater management facilities and over 600 residential units.
Linganore Urbana Youth Athletic Association (LUYAA), New Market, MD
Layout and design of athletic fields (football, baseball and soccer facilities) in the Town's 100 Acre Woods Park. The project included detailed grading, parking, access design, stormwater management and sediment control.
The Heritage, Town of Chesapeake Beach, MD;
Planning and design of Town roadway systems including utility services (water & sewer), storm drainage, stormwater management facilities and sediment control design. This project includes a traffic circle calming device and approximately 3,000 LF of new roadway.
Religious Institutions
Wayman A.M.E. Church, Toms Creek Church, Hope Hill UMC, Asbury UMC, Design of several religious facilities involving surveying, site layout, grading, drainage, stormwater management, sediment control and utilities.
Marrowbone Development Company – September 1981-July 1999
P.O. Box 119
Naugatuck, WV. 25685
Engineer Technician/Environmental Manager
As Engineer /Environmental Manager, Julius was responsible for managing existing and acquiring new state and federal surface and underground mining permits.  His experience includes mining site design, layouts and reclamation plans, overseeing regulatory permitting and compliance for various phases of the mining operation, including air and water quality compliance overseeing acid mine drainage abatement projects, managing final reclamation projects through bond release, budgeting environmental cost, coal preparation, load out facility and refuse disposal layouts.